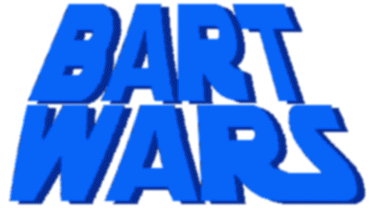 LAST UPDATE: 22nd March, 1999 at 2100 GMT
Includes:
Four pieces of Real&reg Movie Simpsons episode footage

Two new Simpsons screenshots of Star Wars&reg homages
"There's never gonna be an arguement over 'Is anyone gonna
get this' when you're putting in a Star Wars reference."
Matt Selman, story editor for The Simpsons&reg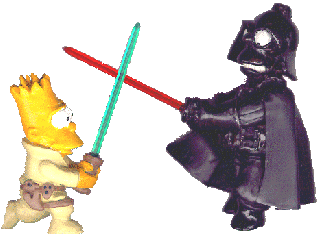 This site is not intended to infringe on the intellectual property of Lucasfilm Ltd., 20th Century Fox or Comedy Central nor is it endorsed by said companies and their licensees.
Star Wars« and its related characters are registered trademarks of Lucasfilm Ltd.
The Simpsons« and its related characters are registered trademarks of 20th Century Fox.
South Park« and its related characters are registered trademarks of Comedy Central.
All rights reserved.
---

Hi, I'm the Webmaster. You may remember me from such webpages as Bantha Dung and the Star Wars Custom Resource Page (was PrecEisley Vintage Customising Homepage). Today I'll be your guide on a tour of all those magical moments when Matt Groening's The Simpsons&reg celebrated a little known film called Star Wars&reg.

Created 12 years before The Simpsons&reg aired on American TV, Star Wars&reg has almost become as pop cultural and iconic as The Simpsons&reg, with the cry of "May the Force be with you." being heard almost as much as Homer's battle-cry "D'Oh!" It only seems right that a programme as popular as The Simpsons&reg try and help raise the stature and recognition of Star Wars&reg through carefully placed jokes and taunts.

Says Jason Grode, writer and manager of The Simpsons&reg comic books, "If you don't know Star Wars&reg, it's still funny on its own, but if you are a fan, there's that little extra. Alot of comic fans are science-fiction and Star Wars&reg fans, so it's giving just that much extra to the fans." It is typical of Matt Groening and his team to take a fledgling film such as Star Wars&reg under their wing and to give its fans a little boost in encouragement to help them through the dark times until Star Wars&reg gets the recognition it deserves.
| | |
| --- | --- |
| | Video clips at this homepage use RealPlayer's encoding format. If you do not have RealPlayer installed, download it now and install it before you continue. It's absolutely free. |
Our programme tonight includes:
| | |
| --- | --- |
| Episode Name | Episode Summary |
| Bart the General | Sick of being bullied by Nelson Muntz, Bart teams up with Grampa Simpson and Herman - the owner of the Miltary Antique Store - to develop a strategy to finish off Nelson for good. |
| [146kb] | At the end of the show Bart leaves us with a somber reminder. |
| | |
| --- | --- |
| Episode Name | Episode Summary |
| Old Money | When Abe Simpson meets Beatrice Simmons at the Retirement Castle they enter into a whirlwind romance. Sadly it ends a bit sooner than Grandpa was prepared for when Bea dies. |
| [109kb] [28kb] | Left with a large inheritance from Bea, Grandpa is left to spend the money as he sees fit - bringing the geeks of Springfield out of the woodwork. |
| | |
| --- | --- |
| Episode Name | Episode Summary |
| I Married Marge | Marge and Homer reminisce about the conception of Bart quickly followed by their hurried marriage. |
| [260kb] | As Homer and Marge leave the Aztec Theatre, after seeing The Empire Strikes Back, Homer gives away the end of the movie. |
| [133kb] [1.2mb] | Following on from the previous scene Homer pays Marge the ultimate compliment. |
| | |
| --- | --- |
| Episode Name | Episode Summary |
| Lisa the Beauty Queen | Lisa has a caricature drawn of her and its exaggeration of her features convinces her that she is hideously ugly. To comfort her Homer enters her into a beauty pagent using her caricature in the entry form. |
| [17kb] | A panning shot of the artist's booth shows an array of previously caricatured personalities. |
| [15kb] | After agreeing to enter the beauty pagent Lisa visits a salon to try out some new hair styles. |
| | |
| --- | --- |
| Episode Name | Episode Summary |
| Itchy & Scratchy: The Movie | Bart is behaving worse than ever and Marge is continually nagging Homer to suitably punish the boy. When Bart forgets to mind Maggie Homer sees red and devises the ultimate punishment - Bart is banned from seeing Itchy & Scratchy: The Movie for life. |
| [124kb] [86kb] | Far in the future we see Homer relenting and allowing Bart see the movie at long last. The future Springfield is a surprising place. (Look carefully in the background to see Barney Gumble coming out of Moe's.) |
| | |
| --- | --- |
| Episode Name | Episode Summary |
| Marge Gets A Job | The "old Springfield place" is sinking into the ground. To help pay for repairs Marge takes on a job at the nuclear power plant - and Monty Burns falls in love with her. |
| [113kb] | Ominous background music accompanies Mr Burns' dastardly plans. |
| | |
| --- | --- |
| Episode Name | Episode Summary |
| Marge Vs The Monorail | Springfield's Town Council comes across a windfall and calls a meeting to determine how to spend it. Marge's idea is poo-pooed when a wandering monorail salesman makes his pitch. |
| [79kb] | After visitng guest star Leonard Nimoy offically opens the Springfield Monorail Mayor Quimby fails to show any street cred. |
| | |
| --- | --- |
| Episode Name | Episode Summary |
| Homer Goes To College | The nuclear power plant is hit by a surprise safety inspection. When Homer is found to be under-educated and poorly trained Mr Burns is forced to send him back to college to pass his Nuclear Physics 101 course. |
| [78kb] | When the inspection team sets up a simulator and Homer's session gets out of hand Mr Burns is forced to escape the plant. |
| | |
| --- | --- |
| Episode Name | Episode Summary |
| Burns' Heir | When Mr Burns' nearly dies in the bath he realises he has no heir. Rather than leaving his wealth to the Egg Advisory Council he holds auditions to fill the role. |
| [109kb] | The Simpsons go to the Aztec Theatre to see Siskel & Ebert: The Movie. (Only 2 thumbs up.) The programme starts with a THX trailer. |
| | |
| --- | --- |
| Episode Name | Episode Summary |
| Lisa's Rival | Lisa's position as Springfield Elementary's most gifted student is threatened when Allison Taylor is skipped a year - into Lisa'a class. Feeling threatened, Lisa agrees to Bart's plan to ridicule Allison at the school's diorama fair. |
| [80kb] | Lisa visits Allison's home after school and is invited to play a word game with her father. |
| [125kb] | It's the day of the Diorama-Rama and Ralph Wiggum isn't sure what a diorama actually is. Nevermind, he's brought in something just as good. |
| [76kb] [13kb] | Raph's joy in winning first prize and beating "the smart kids" is shortlived. |
| | |
| --- | --- |
| Episode Name | Episode Summary |
| Homer Vs Patty & Selma | Homer is short of cash after a failed investment in pumpkins. Unable to get any sympathy from the bank he turns to Marge's sisters for financial help. Meanwhile Bart is late for school on activities sign-up day and is forced to take ballet. |
| [243kb] | After a star performance at the school's ballet (the 'T' is silent) recital Bart reveals himself to his adoring fans. To dire consequences. |
| | |
| --- | --- |
| Episode Name | Episode Summary |
| A Star is Burns | Hoping to improve its reputation Springfield holds a film festival with Jay Sherman as the guest judge. Mr Burns enters the race with a narcissistic auto-biography and bribes the judging panel to ensure it wins. |
| [33kb] | As the camera draws into Mr Burns sitting at his desk we are treated to some apt sound scoring. |
| | |
| --- | --- |
| Episode Name | Episode Summary |
| Round Springfield | While Bart is recovering in hospital Lisa finds Bleedin' Gums Murphy close to death. A sad episode as Lisa comes to terms with her grief when Bleedin' Gums dies. |
| [101kb] | Lisa's tribute to Bleedin' Gums Murphy is more successful than she could possibly have imagined. Note: the newscaster at the end of this clip is actually voiced by James Earl Jones. |
| | |
| --- | --- |
| Episode Name | Episode Summary |
| The Springfield Connection | After a night out with Homer a chance encounter with Springfield's seedy underworld prompts Marge to become a policewoman. |
| [172kb] | In the opening scene of the episode Homer and Marge are viewing an open air concert. |
| | |
| --- | --- |
| Episode Name | Episode Summary |
| Treehouse of Horrors VII | In this episode of 3 chilling tales Lisa's science fair project goes awry and a race of tiny people are created in "The Genesis Tub". |
| [113kb] | The Lisa-worshipping people of the Genesis Tub launch an all-out attack on the Devil - Bart. |
| | |
| --- | --- |
| Episode Name | Episode Summary |
| The Springfield Files | After a night out at Moe's Homer is stumbling through the woods trying to find a short-cut back home, when he comes across what appears to be an alien. The FBI get to hear of the siting and send their top two agents, Dana Scully and Fox Mulder, to investigate. |
| [19kb] | Mulder and Scully take Homer to Springfield's FBI branch to identify the alien he saw. |
| [18kb] | When the secret of Springfield's alien has been uncovered the town gathers round for a old fashioned punch up - followed by a song. |
| | |
| --- | --- |
| Episode Name | Episode Summary |
| The Last Temptation Of Krusty | After being derided by fellow comedians Krusty the Klown announces his retirement. For all of 2 minutes. When his anti-alternative comedy tirade gets a great reception by the gathered reporters Krusty immediately announces his comeback. |
| [43kb] | Krusty meets up with fellow comedy kings in one of Springfield's trendier coffee houses. |
| | |
| --- | --- |
| Episode Name | Episode Summary |
| This Little Wiggy | Whilst spending the day out at the Knowledgeum Marge meets Police Chief Clancy Wiggum and son Ralph. Distressed at how odd Ralph's behaviour is she sends Bart out to play with him, hoping that having a friend will bring him out of his shell. |
| [????kb] | Homer runs off to find the sex education play area. |
| <!A HREF="pics/tlw.jpg">[????kb] | Bart slips away from the family to spend a quiet minute on Mars. |
| | |
| --- | --- |
| Episode Name | Episode Summary |
| Bart: The Mother | After a trip to the fun fair Bart pays Nelson a visit to try out his new BB gun. Much to Bart's horror Nelson forces him to shoot a defenseless bird. Bart learns the lesson of taking responsibility for his actions when he hatches the birds eggs. |
| [49kb] | When Bart and Lisa take their tokens to be cashed in for prizes a toy X-wing can be seen hanging from the back wall. |
| | |
| --- | --- |
| Episode Name | Episode Summary |
| UNKNOWN | When Homer forces Ned Flanders to admit that he's 60 years old, Ned realizes that he has wasted his life so he and Homer go on a wild weekend to recapture some lost time. |
| [274kb] [26kb] | During a trip to the local carwash the owner of The Android's Dungeon proves how big a sad case he really is. |
---
Digitally remastered in
And presented in
BART-O-VISION
THX audio format
---
- The Also Rans -
Also worthy of note are these send-ups of Raiders of the Lost Ark (from The Simpsons) and Star Wars (South Park).
The Simpsons
Episode Name
Episode Summary
Bart's Friend Falls in Love
When Samantha Stanky moves to Springfield Bart and Millhouse's friendship is threatened.
Formats Available
Scene Summary
[1.1mb]
At the start of the episode Bart is stealing Homer's penny jar in a parody of Raiders of the Lost Ark.
South Park
| | |
| --- | --- |
| Episode Name | Episode Summary |
| Chicken Pox | After Kenny gets a case of the chicken pox Kyle, Stan and Cartman's mothers send them over to play with Kenny so that they can get a dose. |
| [100kb] | Cartman is lounging in a bath full of calomine lotion while he finishes a school assignment. |
| | |
| --- | --- |
| Episode Name | Episode Summary |
| The Club House | Stan and Kyle are persuaded to build a treehouse by Wendy so that she and Bebe can play truth or dare with the boys. |
| [37kb] | Cartman gets jealous of Kyle and ropes Kenny in to help him build there own club house. |
| | |
| --- | --- |
| Episode Name | Episode Summary |
| Chef Aid | Chef is being sued by Capitalist Records for claiming that Stinky Britches was written by him in the '70s. When Chef looses his case and is ordered to pay $2,000,000 in damages or face 4 years in jail Kyle, Stan, Kenny and Cartman come to the rescue. |
| [116kb] | Stan Kyle and Cartman are discussing Chef's chances at winning. Their prediction isn't good. |
| [263kb] | Johny Cochrane is the prosecuting attorney in the case that has been declared "the most important case of the, er, day". In his summation he uses a surprise arguement to win the jury over. |
| [129kb] | In Chef's counter-suit against Capitalist Records Johnny Cochrane again uses the Chewbacca Defense. Why? Because it does not make sense. |
Well, that's the end of our show. I hope you all enjoyed the fun and humour of this page. And to all you Star Wars&reg fans out there - don't email the Webmaster with hate mail, he's as much a Star Wars&reg fan as you are. This is all meant to be tongue in cheek. If you do have comments to make email him at webmaster@moseisley.force9.co.uk and he'll be happy to hear your rants.
---
| | |
| --- | --- |
| My thanks to: | John Macdiarmid for his video player and TV card, |
| | Alex Walker for his HTML and JavaScript skills, |
| | and Maureen Kuppe for her customised Simpsons figures. |
---
Copyrightę 1999 Jeremy Beckett. This webpage shall not be reproduced, in whole or in part, without the permission of the webmaster.